Welcome to the Reception!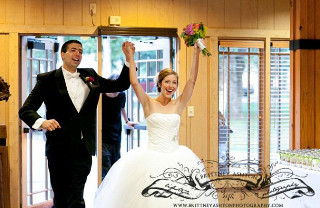 The ceremony is over, and you're ready to eat and celebrate!
From the Grand Entrance, to your exit, my job is to make sure your guests know what event is coming up next.
I strive to improve every year by keeping up on the latest trends of entertainment, sound & lighting to give your reception that special atmosphere that is custom to your liking.
Photo by Brittney Ashton Photography
Let's meet and discuss options you may be interested in.
Such as:
Dancing on a Cloud

Imagine, you & your fiance dancing on top of the clouds!
What a great photo this will be in your wedding photo album!

UpLighting

Add some color to a normally bland room or hotel ballroom.
Many colors can be selected, and colors can be alternated to match your decor.

Wedding Cake Spotlighting

Make your cake (or cupcakes) stand out!

Social Pod Photobooth

Fun photo memories of your guests! Pick from various templates from single, triple still photos to animated GIFs and Boomarang GIFs! (Gifs that continously go forward and backwards to appear to be a short video)
Short video clips are also available.
Guests can text or email their photos to themselves, which they can then share on social media.

Monograms

Your names/initials projected on a wall or the dance floor

Video Screens

These video screens can be used to play photo slideshows/videos, display a monogram, and I can even play music vidoes on it if you like.
The consultation meeting not only allows us to learn about how I can make your dream wedding come true, but it also allows you to meet with me and see if I make a good fit for your reception style.
It's important to hire a DJ that you're comfortable talking with, and provide your mix of class, atmosphere, and party fun!